Dear Team STKO,
I have a question regarding the creation of output files using custom command:
I added two regions of nodes using the selection sets created on purpose, then I used the costum command to record acceleration at nodes. In the selection sets I added more then one node (I added a selection set for each vertical I have to investigate with three or two nodes) and in the custom command I set to obtain a different file for each node using the node id, as it was done in one of your webinars.
Would it be possible to differentiate output files by position instead of node id? Let me explain: for each node in the slection set, I would like to obtain an output file called e.g.
" f 0 _ sup "
f0 for identifying the veritical
sup for identify the node (sup for supirior nodes - int for interface nodes - bed for bedrock nodes)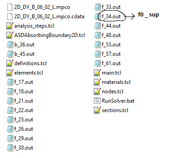 Is this possible by writing a script in the costum command?
Or should I make a selection set, a list and a costum command for each node?
Below I attached the files of the whole model.
Thank you in advance.